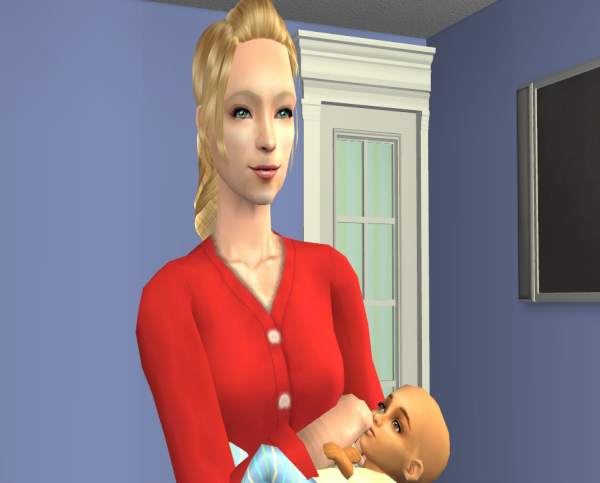 Jessica Picasso, have you ever wondered just what makes her tick... at least in my game? When she and Matthew first moved into Riverdale they were actually just filler. I was going to make them NPCs, but something within their dynamic made me want to add them to my regular hood and rotation.
Slowly their story began to develop. Jessica had dreams of become the first female general in the Army, helping to defend her country from foreign threats. But then she and Matthew welcomed their first child, Rose. And for Jessica, it was love at first sight. She no longer felt it was worth it to rise through the ranks, and so she quit the armed forces and became a stay at home mom. She watched as her husband continued to work hard, providing for his family. But he too desired a change in life, and wanted to open and run his own business. That's when they decided to open a small market in Riverdale. Sadly, it never took off the way they wanted and they had to close and sell the business.
Along that bump road they welcomed their second daughter, Lola. And to Jessica's dismay, she also discovered the short lived affair between her husband and a girl named Sharla Ottomas. Jessica was hurt. She actually thought about leaving her husband, because any sane woman who found out that her man went behind her back, would, in fact, leave the cheated dog. But Jessica wasn't and still isn't like other women. This doesn't make her weak in her eyes. She's a fighter. And she was going to not only fight for her man, but for her family as well. And that's what she did.
She and Matthew entered counseling and worked through their problems. He never was able to give voice to why he did what he had done, but none the less he was able to reestablish trust between him and his wife once more.
For now the couple has five children, three daughters and two sons. And they are still working on their relationship everyday. Jessica isn't certain if they will make it through, but at least no one can ever say she didn't try. If she could would she change anything? No, because it's made her stranger. It's made her the woman that she is today.